Author: Dakota Lavento Images: Heli Hietala and Tomi Suvanto Translation: Mikael Jenu
Upgrade to ground source heating was a great relief
At Hannele and Tommi Suvanto's bee farm, summer months are busy – and not only for the bees. Running a successful business takes a lot of time and effort. By making the switch to ground source heating, the couple was able to substantially reduce their daily workload.
In the summer season, the farm's 130 bee colonies produce approximately 4 000–5 000 kilograms of honey. The Suvanto family's honey business, Lakeuden hunaja, has apiaries across four locations around the town of Lapua in Western Finland, the Suvanto home farm serving as a central hub for the operation.
The company is renowned for its soft and creamy honey. To preserve the precious enzymes, amino acids, minerals, and vitamins in the honey, the product is left as unprocessed as possible; No deep-freezing, heating, or pasteurizing is used. The honey gets its lovely mild taste and light color from clover. A small portion of the honey comes from the couple's forest plot in Simpsiö. Here, the bees get their nectar mainly from wild raspberry, fireweed, bilberry, and lingonberry flowers.
The company also offers flavored honeys. Ginger and lemon are popular options. A large share of the honey is sold through a local direct-sale REKO ring and in local grocery stores.
Tomi (in the image below) is responsible for managing the bees and the company's production processes as well as for raising queen bees. Hannele, in turn, takes care of honey extraction, commercialization, sales, and marketing.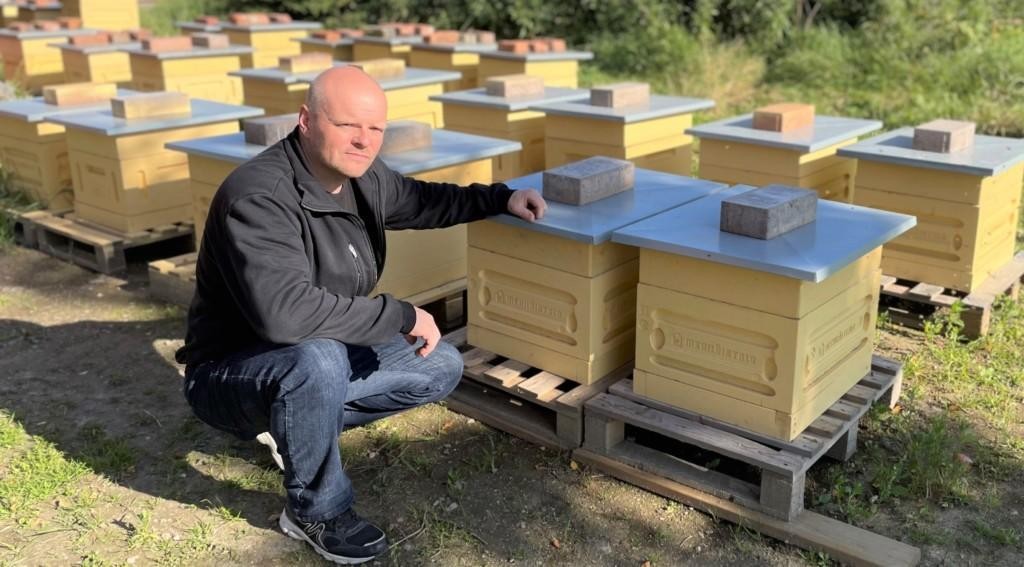 Bringing balance to everyday life
Outside the summer season, Tomi teaches electrical installation technology in SEDU's vocational training unit in Lapua. Tomi splits his time between the family business and his family, which means that finding time can be a challenge.
It's only smart to find better ways to do things. Upgrading the heating in the family's 200-m2 home and another similarly sized outbuilding turned out to be an outstanding choice. The change has freed up an immense amount of time.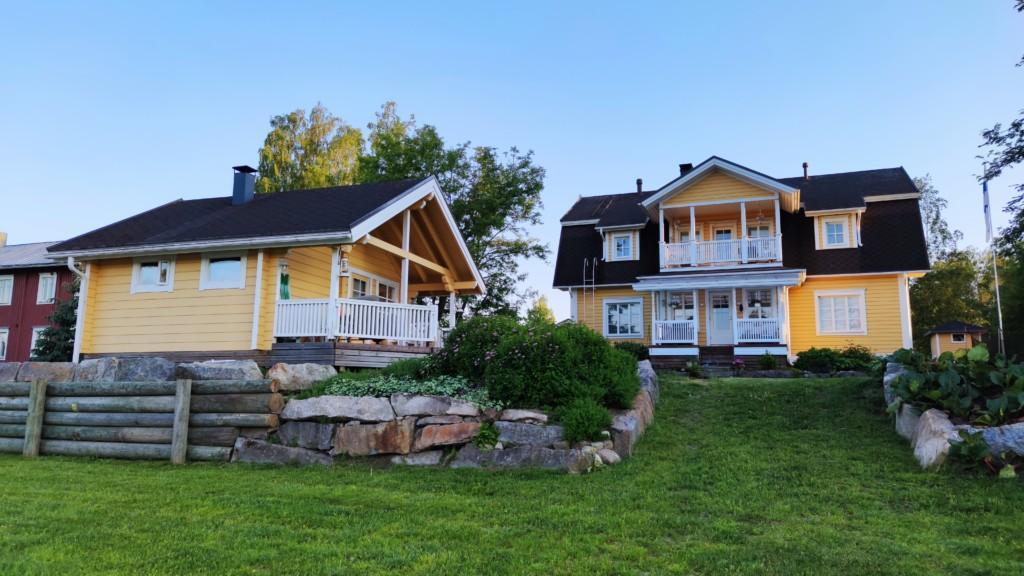 "We have some semi-heated production space in the outbuilding. We used to heat both buildings with a woodchip boiler. The boiler had a mechanical stoker that could hold a cubic meter of woodchips. In winter, we had to refill the stoker every 2–3 days," Tomi says.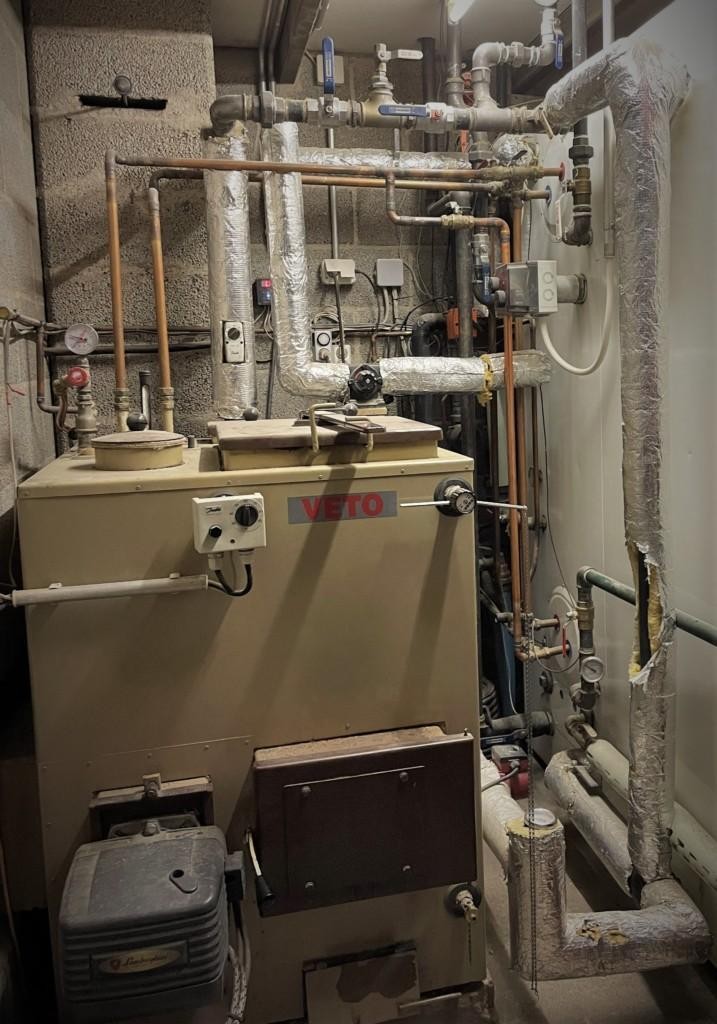 This meant that in the winter months, the family couldn't really leave their home for any longer period, since someone had to be there refilling the stoker.
Another problem was where to get the fuel. The easiest way was to buy ready-made woodchips, but this was naturally the most expensive option. It was cheaper to buy the wood as trunks, but wood chipping is laborious.
"We do have a couple of hectares of forest for energy wood, but we would have to make regular trips for wood and, of course, make the chips," Tomi says.
According to Tomi, the fuel itself and other costs for using wood chips for heating amounted to EUR 700–800 euros per year.
The ground source heat pump arrives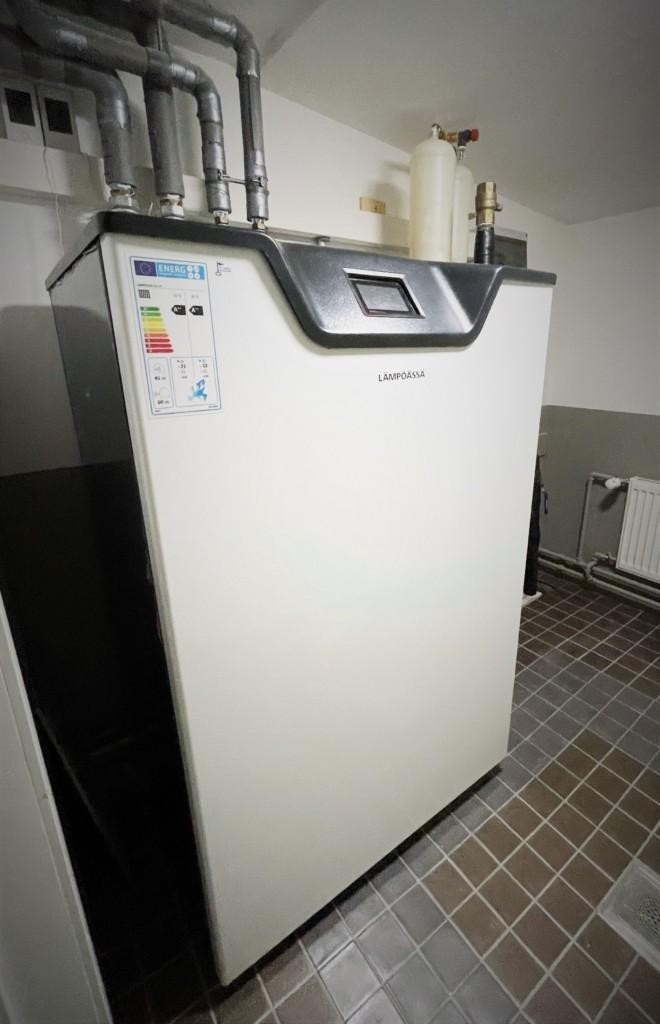 Heating with woodchips simply took too much time.
In 2016, the Suvanto family bought an EMi 22 ground source heat pump, which is part of the Oilon and Lämpöässä product family. Today, the unit is used to heat the property's original 1,800-liter storage tank.
A system of this size typically needs two 180-meter boreholes. According to the original quotation, the work involved would have cost 10,000 euros. Being a capable guy, Tomi decided to make his own ground loop field by burying two 500-meter coils of PE pipe in the ground.
Tomi has been more than happy with his investment. Effortless, convenient, and trouble-free, the system has provided more than enough hot water for a family of six. Two of the children are teenagers, which means that the family needs plenty of hot water.
In many reasonably-sized farms, ground source heating has proven to be an extremely economical solution. After four years, Tomi Suvanto now has an accurate overview of the expenses. The heat pump is connected to its own electricity meter.
"The unit has consumed around 12,500 kWh of electricity per year, which means that we've spent 1,250 euros on space heating and heating hot water per year. That's only 450 euros more than with wood chip. That's not a lot of money, considering that I don't need to do anything," Tomi Suvanto says.
---
Ground source heating at the Suvanto bee farm
Location: Lapua, Finland
Heating system upgraded in 2016
Detached house and outbuilding with semi-heated production space,
both with a floor area of approx. 200 m2
Heat pump: Lämpöässä EMi 22
Storage tank: 1,800-liter hot water tank, original to the property Horizontal loop field with two 500-m brine circuit pipe coils
---
Our local representatives offer Oilon and Lämpöässä ground source heat pumps with expertise. In most cases, the solution can be delivered on a turnkey basis.