Top performance, quiet as a whisper
Designed in cooperation with acoustic consultants, our updated range of RE heat pumps for medium-sized and large buildings is more quiet than ever. We have delved deep into the mechanics of vibration and the world of structural design to better identify vibration sources and attenuate vibrations. The new, quiet, acoustically sealed heat pump solution is complemented by a clean and businesslike exterior.
Lower your heating costs for added property value
The RE heat pumps in the Oilon and Lämpöässä heat pump range feature groundbreaking EVI technology, which provides a very high temperature output with an exceptionally low environmental impact. The RE ground source heat pump selection was designed with low operating noise, energy efficiency, and operational reliability in mind.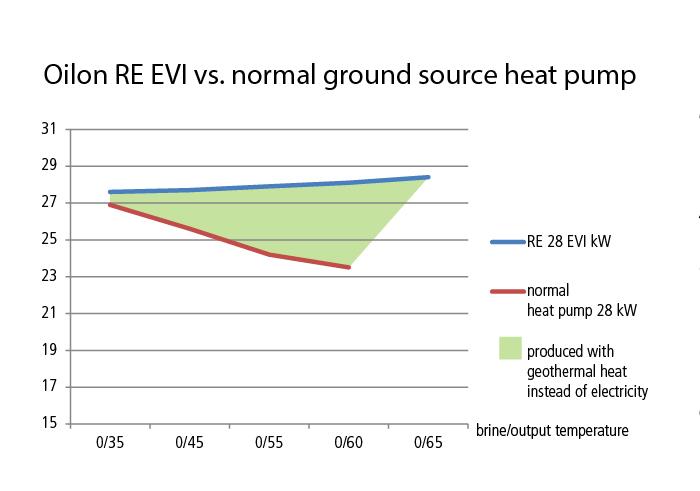 A professional choice
The highly versatile RE range is intended for demanding property heating solutions and heat recovery. RE heat pumps are well-suited for heating and cooling public buildings, industrial properties, apartment buildings, and terraced houses. The units are designed, engineered, and manufactured by Finnish professionals building upon our decades-long experience of demanding Northern winter conditions.
Compared to traditional heat pumps, heat pumps featuring the new EVI compressor and heat exchanger technology provide considerably more kilowatts worth of hot water. The ECONOMIZER EVI function provides outstanding energy efficiency and, thanks to the heat pump's electronic electronic expansion valve, the unit's operation can be accurately optimized. Furthermore, maximizing operational reliability even in demanding conditions has been a priority in our product design.
Unparalleled connectivity
Compressor modules are compact and easy to transport and maintain. They are easy to connect; if need be, you can connect up to 16 RE modules in parallel, achieving a maximum capacity of 768 kW. The heat pump's control cabinet can be moved from one side to the other, and fans in the cabinet guarantee a long life for electrical components. Selecting exactly the right brine circuit pump for your application allows you to achieve a superior COP. Additionally, heat pumps in the RE series feature flexible connections for different cooling solutions, such as the apartment-specific ÄssäCooling system, and for hybrid and solar heating applications.
Check out our new brochure and read more about the latest RE ground source heat pumps in the Oilon and Lämpöässä range:
Our local representatives offer Oilon and Lämpöässä ground source heat pumps with expertise. In most cases, the solution can be delivered on a turnkey basis.